Welcome to the forum. If this is your first time you can browse around and see what you like. You will need to be registered in order to post!
Join our community and talk about tech, gaming, get support for computer problems and even sale your own product.
Considering supporting us by
subscribing
.
Connect with your social network account
Forum rules
Please specify the region/location you are selling your item from, this will help other users to buy your items more easily. Also specify the currency from your region.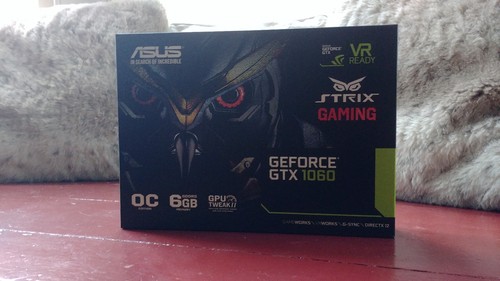 Features:
1809 MHz boost clock in OC mode for outstanding VR and 4K gaming.
DirectCU II with 0dB fan technology for 30% cooler and 3X quieter performance.
Industry Only Auto-Extreme Technology with Super Alloy Power II delivers premium quality and best reliability.
VR-friendly HDMI ports let you enjoy VR experiences anytime without having to swap cables.
GPU Tweak II with XSplit Gamecaster provides intuitive performance tweaking and real-time streaming
Specs:
Model: 1060
PCI: PCI Express 3.0
Video Memory: 6GB
Resolution: 7680x4320 (Max)
Clocking: OC Mode - GPU Boost Clock : 1811 MHz , GPU Base Clock : 1595 MHz
Gaming Mode (Default) - GPU Boost Clock : 1785 MHz , GPU Base Clock : 1569 MHz
Ports: 1 x DVI, 2 x HDMI, 2 x Display Port
Description:
Barely used. Everything is sealed and packed in it's original packaging including port plugs & instruction manual.
Location: Sold from Australia to anywhere within Australia. Local buyer in Melbourne can pick up.
Check out the listing on ebay.
PC: Custom Built Gaming PC
Monitor: Samsung S24D390H, Asus VE248H
---
Users browsing this forum: No registered users and 1 guest
Topic Subscribers
1 user subscribed to this topic: kachan64